FuneralPress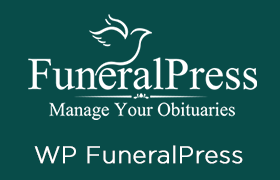 FuneralPress is an online website obituary management and guest book program for funeral homes and cemeteries, FuneralPress allows funeral and cemetery owners to display online obituaries and guestbooks on their website and allow loved ones to register on their site and post moderated guestbook comments. This plugin has many features and settings you can modify to make this plugin work for your website. We also offer a premium version with ehanced features which can be found on our website.
Purchase
All price options are billed yearly. You may cancel your subscription at any time. Addons subject to yearly license for support and updates. There is a 30% discount on yearly renewals if you renew within 30 days.
Addon Information
Sites Using this plugin:
2100+ WordPress Installs
Addons
Once you purchase the FuneralPress base version you can purchase any additional addons to enhance your experience.
Support